Our Sunday, March 4, 2018, concert will be held at Forest Hills Central High School Auditorium (due to construction at Forest Hills Eastern).
Forest Hills Central High School
5901 Hall Street SE
Grand Rapids, MI 49546

---
The Forest Hills Adult Community Band offers a place for personal growth in instrumental music. Some of our musicians have played their instruments for many years. Other have not played for many years, but wish to return to great musical performances. Some build upon common musical foundations essential for all instruments and learn the unique techniques of a new instrument. It is our mission to provide opportunity for musical enrichment through the rehearsal and performance of instrumental music within the framework of a full concert setting.
Our musicians come from all walks of life, leaving their professions at the band room door, unpack their cases and begin, with an upbeat from our conductor, Greg Christensen, to provide our audience with the music that makes toes wiggle, fingers tap, and spirits dance. Come join us, on stage or in the audience, for our music is for all.
We're a non-audition group of approximately 70 members. Our instrumentation fluctuates over time as schedules, needs, and interests change because. We don't limit the number of instruments included in each section.
Registration is handles through the Forest Hills Community Services. Typically, registration begins 6 weeks prior to the first rehearsal. The fee is $49.00 for those who register by the second week of each new semester. The fee increases to $59.00 after that anytime during the semester. (Follow this link to sign up for the Winter 2018 experience.)
Rehearsals take place on Thursdays from 7:00-9:00PM at Forest Hills Eastern, located on the corner of Knapp and Pettis.
We perform 3 concerts during the year (fall, winter and spring). In addition, we host and perform in Bands on the Grand each March. Additionally, in the spring of 2014 and 2015, we performed in the Motor City Festival of Bands in Dearborn, MI.
For more membership information, contact our membership chairperson at:
Find us on Facebook.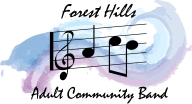 ---
Troubles with this website? Contact the Webmaster
---